Former CDC Director Fires Back at Fauci's 'Natural' Claim
By Jack Phillips
Former Centers for Disease Control and Prevention (CDC) Director Robert Redfield rejected White House adviser Anthony Fauci's claims that it's more likely COVID-19 originated naturally.
In a recent interview, Fauci said he has an "open mind" but still believes that the virus occurred naturally after previously dismissing the theory that it emerged from the Wuhan Institute of Virology in late 2019. "It looks very much like this was a natural occurrence, but you keep an open mind," Fauci said.
When asked about Fauci's recent comments on Monday, Redfield told Fox News that he still suspects COVID-19 emerged "from the laboratory" and "had to be educated in the laboratory to gain the efficient human-to-human transmission capability that it has."
"There's very little evidence, if you really want to be critical, to support" the natural emergence theory, he said. The former Trump administration official then compared COVID-19 to prior coronaviruses such as Middle Eastern Respiratory Syndrome (MERS) and Severe Acute Respiratory Syndrome (SARS) that emerged about 10 years ago, saying that neither virus had the same transmission capacity as COVID-19.
"So it's really exceptional that this virus is one of the most infectious viruses for man. And I still argue that's because it was educated how to infect human tissue," Redfield told Fox News.
Laboratory
The same Wuhan laboratory, he added, was the subject of a 2014 report amid claims that researchers performed research on bat-borne viruses that could impact humans.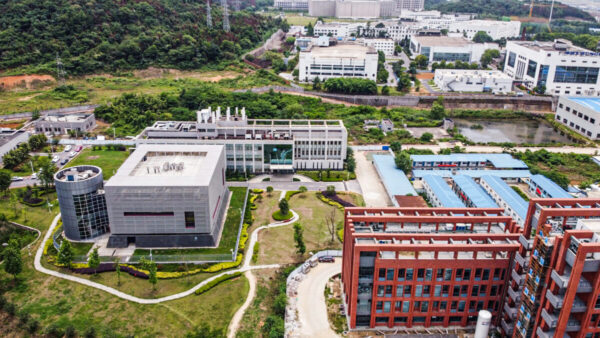 The P4 laboratory on the campus of the Wuhan Institute of Virology in Wuhan, Hubei Province, China, on May 13, 2020.
"I'm disappointed in the [National Institutes of Health] for not leading an objective evaluation from the beginning," Redfield told the outlet. "I think it really is antithetical to the science where they took a very strong position that people like myself who are somehow conspiratorial just because we have a different scientific hypothesis."
A reason why the Wuhan lab leak theory has not been fully recognized, Redfield argued, is due to the politicization of the pandemic response and the pressure that was heaped on scientists who sought objective approaches while studying the origins of COVID-19.
"I've been very disappointed in the scientific community led by [National Institutes of Health] that has really dug their heels in from the beginning to try to minimize any of us that have a different hypothesis," he said.
Both the NIH and Fauci have come under scrutiny over the agency's decision to provide hundreds of thousands of dollars to a third-party group to assist in researching bat coronaviruses at the Wuhan lab.
After spending years working at the NIH, Redfield was named by former President Donald Trump to head the CDC in March 2018. He stepped down at the end of Trump's term in January 2021.
---
Original Source: https://www.theepochtimes.com/former-cdc-director-fires-back-at-faucis-natural-claim_4622413.html