Biden's Student Loan Cancellations Estimated to Cost Over $400 Billion: CBO
By Mimi Nguyen Ly
The Biden administration's plan to cancel student debt is estimated by the Congressional Budget Office (CBO) to cost the U.S. federal government over $400 billion over the next 30 years.
Biden's plan, announced in August, involves providing up to $10,000 in debt relief to borrowers who earn less than $125,000 per year, or $20,000 in debt relief to Pell Grant recipients who meet similar income standards. An application to receive the benefit is expected in early October.
"As of June 30, 2022, 43 million borrowers held $1.6 trillion in federal student loans. About $430 billion of that debt will be canceled, CBO estimates," CBO Director Phillip Swagel told Republican lawmakers in a letter on Monday (pdf), in response to a request for figures.
"In its May 2022 baseline, CBO projected that for many borrowers in income-driven repayment plans, a portion of the amounts canceled through executive action would eventually be forgiven anyway," he added. "CBO also projected that many borrowers in fixed-length repayment plans would accrue and pay interest on the principal amounts canceled through executive action. Because of the executive action, those borrowers will now pay less in principal and interest than the amounts estimated in the baseline."
The CBO is also estimating that the cost of outstanding student loans will increase by $20 billion. This is because Biden in August extended a freeze on student loan repayments and interest, calling it the final extension. The freeze had been in place since March 2020.
After accounting for the freeze, the CBO "estimates that the cost of student loans will increase by about an additional $400 billion in present value" due to Biden's student debt relief plan, Swagel told Congress.
The CBO is a nonpartisan federal agency within the legislative branch of the U.S. government that provides information on the budget and the economy to Congress. Swagel's letter on Monday is the first full cost estimate of Biden's student debt relief plan issued by a government agency.
"CBO's estimates are highly uncertain," Swagel noted, saying it is hard to predict how much borrowers would repay had Biden not taken his debt-relief actions.
Swagel also noted that the CBO's $400 billion cost estimate also "do not include any effects" of Biden's proposals for a new income-driven repayment plan, which the Committee for a Responsible Federal Budget, a non-profit public policy organization, has estimated will cost a further $120 billion.
The plan is similar to current plans that limit monthly bills based on a borrower's income, but with more generous terms. It would in part limit borrowers' payments to 5 percent of their discretionary income, down from 10 percent currently, and it would forgive any remaining balance after 10 years, down from 20 years currently.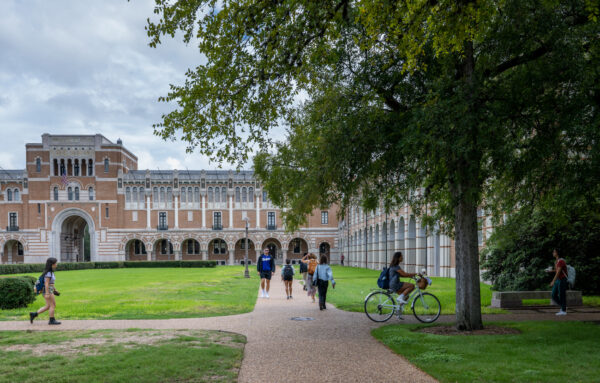 Students walk to class at Rice University in Houston, Texas. on Aug. 29, 2022.
The Biden administration previously estimated the plan would cost about $24 billion a year over the next 10 years—about $240 billion for the decade—while other estimates put the total cost at $500 billion or more over the decade.
White House Chief of Staff Ron Klain noted on Twitter on Monday that the CBO's estimate "puts the first year cost at [$21 billion]," which is less than the Biden administration's estimate of $24 billion. He also noted: "If you want apples-to-apples, note that this [CBO estimate] is a THIRTY year score; most often, CBO estimates a program's cost over its first TEN years."
Biden has played down the cost of his student debt cancellation plan, saying it would be offset by other measures to reduce the federal deficit, including the Inflation Reduction Act.
Student Debt Relief Plan is 'Illegal': GOP Lawmaker
In response to Swagel's letter, Rep. Virginia Foxx (R-N.C.) issued a statement calling Biden's student debt cancellation plan "illegal."
"CBO's $400 billion cost estimate shows this administration has lost all sense of fiscal responsibility," said Foxx, the ranking member of the Education and Labor Committee. She said that Biden's actions effectively transfers the costs to Americans who never attended college.
"It is just the tip of the iceberg," her statement reads. "It doesn't include the cost of this administration's other efforts to transfer wealth from college graduates to hardworking taxpayers who never set foot on a college campus, such as his re-write and expansion of the Public Service Loan Forgiveness and Income Driven Repayment programs."
Foxx added, "Rather than working with Congress to bring down college costs, President Biden has opted to bury the American people under our unsustainable debt."
Separately, Senate Majority Leader Chuck Schumer (D-N.Y.) and Sen. Elizabeth Warren (D-Mass.) said in a joint statement that the CBO estimate "makes clear that millions of middle class Americans have more breathing room."
"President Biden delivered transformative middle class relief by cancelling student debt for working people who need it most—nearly 90% of relief dollars will go to those earning less than $75,000 a year," they said. "We don't agree with all of CBO's assumptions that underlie this analysis, but it is clear the pandemic payment pause and student debt cancellation are policies that demonstrate how government can and should invest in working people, not the wealthy and billionaire corporations."
Biden's student debt relief plan has been criticized by Republican and Democrat lawmakers, as well as other experts, who said it could cause the national debt and taxes to rise amid soaring inflation across the country. In early September, 22 governors called on Biden to withdraw the student debt relief plan.
White House press secretary Karine Jean-Pierre on Monday defended the plan, saying it will "give some breathing room [for] many Americans—tens of millions of Americans."
"This is going to be an important step forward in giving people an opportunity to save some money and put money down on a house—right?—to start their family. … It is important for people who are just looking for a little bit more of help in their everyday lives."
The administration is expected to release its own detailed cost estimates in coming weeks.
Original source: https://www.theepochtimes.com/bidens-student-loan-cancellations-estimated-to-cost-over-400-billion-cbo_4756839.html