Richard Grenell Linked to Epstein-Led, CCP-Tied Humpty Dumpty Institute
By Frankie Stockes
The shadowy CCP-tied group that has been led by Jeffrey Epstein's brother is also tied to Mark Meadows, Samantha Power, and other political figures.
Richard Grenell was closely linked to the globalist Humpty Dumpty Institute during his time working at the Bush Administration's US Mission to the United Nations. A non-profit tied to a laundry list of uni-party establishment members, the Humpty Dumpty Institute has been led by Mark Epstein, the brother of notorious child sex trafficker Jeffrey Epstein. The organization has close ties to the Chinese Communist Party and the Taihe Institute, a think tank that is directly led by high-ranking CCP officials.
Former Acting DNI and Ambassador to Germany during the Trump Administration, Richard Grenell has been floated by many as a potential vice presidential pick should 45th President Trump decide to run again in 2024. Openly gay, Grenell has been touted as a "diverse" choice with plenty of experience in global politics. Recently, Grenell went to Iowa to address local GOP and conservative groups, a frequent exercise for executive branch hopefuls ahead of an election year. That trip added even more fuel to the speculation that Grenell could be jockeying for the position of Trump's 2024 running mate.
Before he was a purported member of the America First movement, Richard Grenell spent years working for the administration of President George W. Bush, serving at a high level in the US Mission to the United Nations from 2001 to 2008. During that time, Grenell worked in a number of globalist "policy making" roles related to the UN's notorious "peacekeeping" operations as well as the Global War on Terror.
According to photographs and logs detailing the Humpty Dumpty Institute's (HDI) relationship with the US Mission to the UN, Grenell was deeply tied to the globalist, Epstein-led non-profit during his time in the Bush Administration and appeared as a speaker at HDI's "Staff Delegation to the United Nations" at least twice, in 2005.
In June of that year, Grenell joined a group of "senior US diplomats, high-level UN officials, and spokesmen from a number of UN agencies and departments," to address HDI's 15th Staff Delegation to the United Nations. According to an HDI webpage memorializing the event, "the intent of this program was to give congressional spokesmen an opportunity to view first-hand the inner workings of the UN while providing them with a network of capable counterparts throughout the UN system." According to the webpage profiling HDI's delegation, Grenell addressed the group as part of a "breakfast briefing," offering a "description of his own background and specific duties." Grenell, the HDI's summary goes on to explain, urged attendees to work through him while dealing with both the US Mission to the UN and the UN as a whole.
Grenell "emphasized his intermediary role between the US Congress, the US Mission, and the United Nations, and urged future dialogue through his office," HDI's webpage reads.
Attendees at the 15th Delegation included the staff members of several uni-party Congressmen and Senators, including Rebecca Kutler, who at the time was Press Secretary to far-left California Rep. Adam Schiff. HDI leadership was also present at the event. Also present were members of Senator John Cornyn and Rep. James Clyburn's respective staffs.
Among Grenell's fellow speakers was American UN Ambassador Anne Patterson. Patterson went on to serve in a number of capacities in the Bush and Obama Administrations, including as Obama's Ambassador to Egypt, where she was closely tied to the terror-connected Muslim Brotherhood, which itself is designated as a terror group by a number of Muslim nations and others.
A few months later, in October of 2005, Grenell joined HDI and several big names within globalism once more for yet another Staff Delegation, this time marking the event's 16th incarnation. As part of the delegation, congressional offices had the "unprecedented opportunity to meet with senior decision-makers at the US Mission and at the United Nations to discuss issues critical to the US-UN relationship behind closed doors."
HDI's 16th Staff Delegation to the United Nations included then-Senator Barack Obama staffer Samantha Power. Power, who went on to serve in the Obama Administration at the UN and in other roles, is a key figure in globalist foreign policy-making circles. During Obama's presidency, she was at the forefront of calling for America to employ the type of disastrous "humanitarian intervention" used in Libya and other troubled nations. Currently, Power sits as Joe Biden's Administrator of the United States Agency for International Development.
Photographs posted by HDI online of the delegation events show Grenell playing a key role and sitting alongside senior HDI members. In one photo attributed by HDI to their 15th Delegation, Grenell himself can be seen in attendance.
In another, a portion of what appears to be his place tag is visible, displaying "Ric Gre," and what appears to be a portion of the word "spokesman" in the photograph.
Seated next to Grenell and his place at the table are big pharma executive Debra DeShong and Humpty Dumpty Institute President Ralph Cwerman. Also pictured is Muslim Brotherhood-tied Ambassador Anne Patterson.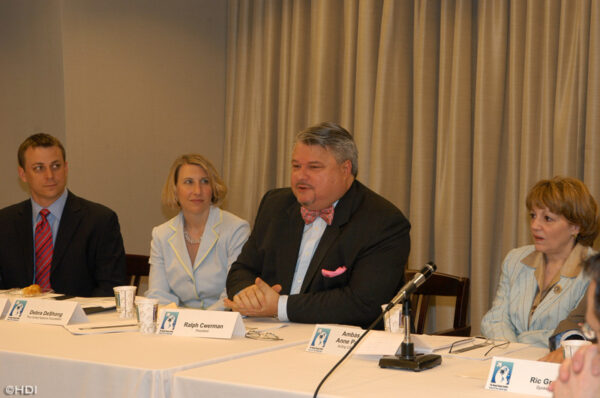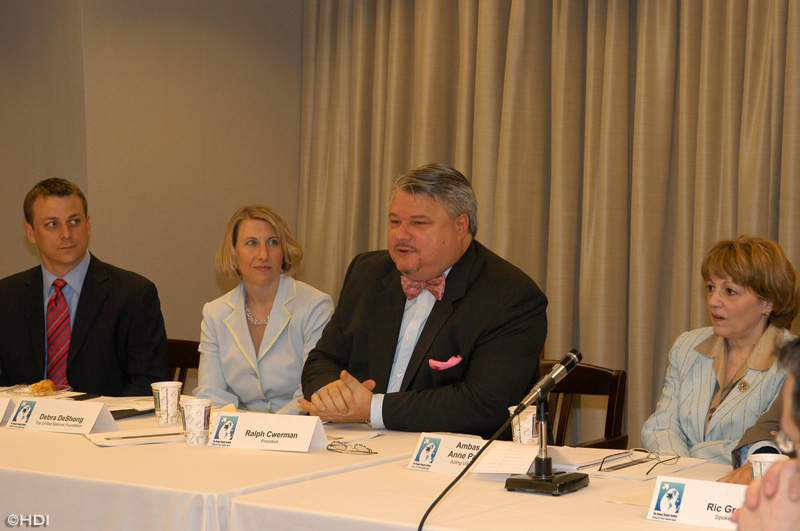 Richard Grenell's place setting, at the bottom right, alongside HDI President Ralph Cwerman and big pharma's Debra DeShong
As reported by National File, the shadowy Humpty Dumpty Institute is deeply tied to not only the United Nations and American politics but the Chinese Communist Party. In 2018, Jeffrey Epstein's brother Mark was listed in IRS forms as HDI's Director and main financier.
The Humpty Dumpty Institute, once run by the brother of late pedophile Jeffrey Epstein, has managed to stay largely out of the news despite its ties to the United Nations, US State Department, several members of Congress, global elite, and Chinese Communist Party. Jeffrey's brother, Mark Epstein, was listed as a Director and main financier according to the most recently listed IRS form from 2018.
Along with Grenell, a number of big names in politics – mostly Democrats – have been tied to the Epstein-led Humpty Dumpty Institute. Among Republican figures linked to the group is former Chief of Staff to President Trump, Mark Meadows, who while a member of Congress served as leader of the House Freedom Caucus.
National File has learned that Mark Meadows, the former Republican House Freedom Caucus Leader and former Chief of Staff for President Donald Trump, was appointed to the HDI Congressional Advisory Board in 2013, and served in this role as recently as April 2019.

According to public records, it appears HDI has not made its filings available since fiscal year 2018, when Mark Epstein was still listed as a Director and financier. Epstein's name was recently been removed from the website's board of directors, however, through an internet archive, National File has discovered that Epstein was listed on the site as recently as December 20, 2020. It is unclear if Epstein is still involved in HDI.

Interestingly, it appears that Meadows was the only Republican member of Congress to have served on the board during this period. In 2018, Meadows was the sole Republican listed alongside 28 Democrat Representatives, including Reps. Adam Schiff, Maxine Waters, Sheila Jackson-Lee, Al Green, Bennie Thompson, Jim Himes, Frederica Wilson, Hank Johnson, and others.
---
Original Source: https://nationalfile.com/richard-grenell-linked-to-epstein-led-ccp-tied-humpty-dumpty-institute/